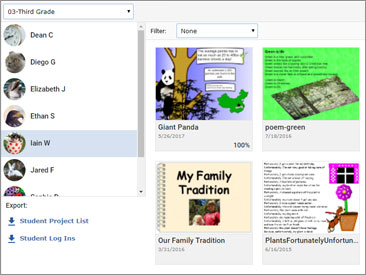 Easily access student work!
Teachers have access to view their students' Wixie projects. Students don't have to manage files, submit, or upload documents to turn in assignments!
Teachers can log in to Wixie and assess student progress towards the completion of a project, make comments and suggestions on student work, and assess the final project.
Hundreds of standards-aligned activities
Use and customize activities correlated to the Texas TEKS, Virginia SOLs, and the Common Core State Standards. Assign activites to your entire class or specific students to differentiate instruction.
Schools and districts can create their own libraries of activities and share them across the entire organization.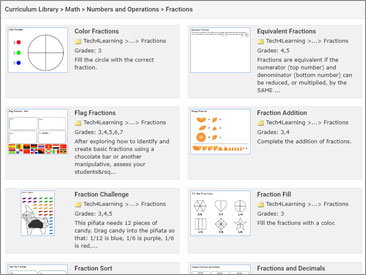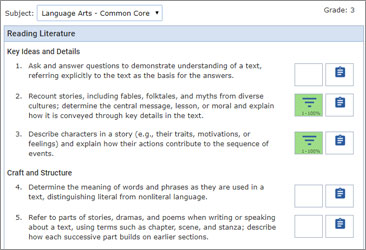 Connect student work to standards
Wixie activities targeting specific skills are already aligned to academic standards. Teachers can also correlate original student work and customized activities to the Texas TEKS, Virginia SOLs, and the Common Core State Standards.
Teachers can view student work to evaluate progress as well as identify and assign additional activities to meet specific academic standards.
Create and assign assessments
Wixie's assessment tools help teachers develop checklists, rubrics, and pass/try again style assessments for student work. Create rubrics from scratch, or start with one of Wixie's pre-made assessments and customize it for your project.
Assessments can be attached to activities and any original student projects ready to be scored when the project is finished.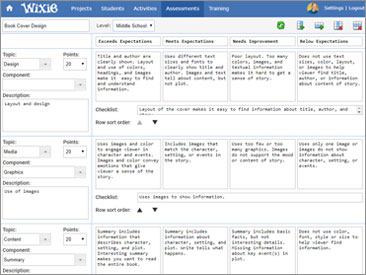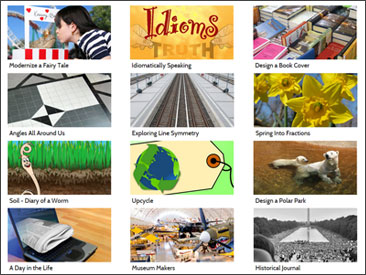 Getting started with Wixie is easy
The Creative Educator has lesson plans for Language Arts, Math, Science, and Social Studies to help you get started integrating Wixie into your curriculum. At Creative Educator you will also find articles, classroom stories and ideas for infusing project-based learning into your classroom.