Engage Primary Students in Science with Technology!
Use these examples of projects created by students to inspire technology integration in your primary science program.
These digital projects were created by students using Wixie.
---
Animal Traits
Students use a cluster diagram template to describe traits of a plant, animal, habitat, or weather system.
---
Scientific Cycles
Students can choose a scientific cycle and illustrate it to build and demonstrate their understanding.
---
Interview with an Animal
Students interview animals to demonstrate knowledge of animal characteristics, diet, and more.
Lesson Plan
---
Reading and Writing Informational Texts
Have students create their own informational text including headings, a table of contents, captions, and labeling to find information. Publish their work as a great collection of nonfiction at just the right reading level for your students.
Lesson Plan
---
Making Comparisons
Students use a Venn diagram template to compare two animals, habitats, or other science topic.
---
Reading and Writing Informational Texts
Have students write poetry to demonstrate understanding of informational text./p>
More ideas for informational text projects
---
---
Integrate Technology into Science
Ideas for engaging elementary students in science as they explore the curriculum through creative projects.
This FREE guide includes:
Articles and Project Ideas
Lesson Plans
Sample Student Work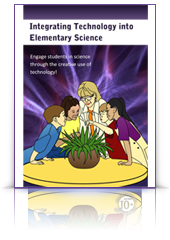 Build Analytical and Creative Thinking with STEM
Utilize the goals and ideas of a STEM approach in your classroom.
This FREE guide includes:
Articles and Project Ideas
Lesson Plans
Sample Student Work