Bring Creative Technology to Fourth-Grade Classrooms!
Use these examples of projects created by students and tweets from classroom teachers to inspire technology integration in your fourth-grade classroom.
Whether you have Chromebooks, iPads, PCs, or Macs in your classroom, you can use technology to engage and inspire your students in the curriculum.
These multimedia projects were created by students using Wixie.
Built-in activities for essential math foundations
Wixie's Templates library includes a range of fourth-grade math activities you can use for formative assessment purposes or tasks for student work at centers and in station rotations.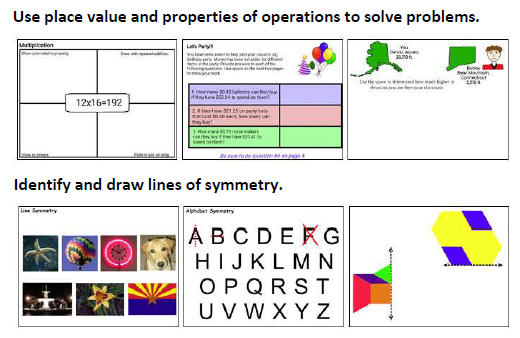 ---
Design a Book Cover
Students create a new cover for a book to show comprehension and explore character, plot, setting, symbolism, and conflict.
---
Public Service Announcements
Students create a public service announcement to educate people about global warming or another issue they are passionate about.
---
Explore Line Symmetry
Students will create original artwork and manipulate images to demonstrate understanding of line symmetry.
---
Interview with a historical figure
In this example, a student interviews a colonist from Williamsburg to show what they know about early American history.
---
Idioms
Students will illustrate and translate the meaning of an idiom to help others learn these examples of figurative language.
---
Scientific Cycles
Students can choose a scientific cycle such as pollination and illustrate it to build and demonstrate their understanding.

Lesson Plan

Wixie 4-Phase Cycle template

Wixie 5-Phase Cycle template
---
Business Sale
Students design and create upcycled products using materials collected at home and school, creating how-to books and advertisements for their products.
---
Give students choice
Use this choice board to put students in charge of how they will demonstrate their learning.

Wixie State Report choice board