Bring Creative Digital Projects to First-Grade Classrooms!
Use these examples of projects created by students and tweets from classroom teachers to inspire technology integration in your first-grade classroom.
Whether you have Chromebooks, iPads, PCs, or Macs in your classroom, you can use technology to engage and inspire your students in the curriculum.
These technology projects were created by students using Wixie.
Built-in activities for essential math foundations
Wixie's Templates library includes over 60 first-grade math activities you can use for formative assessment purposes or tasks for student work at centers and in station rotations.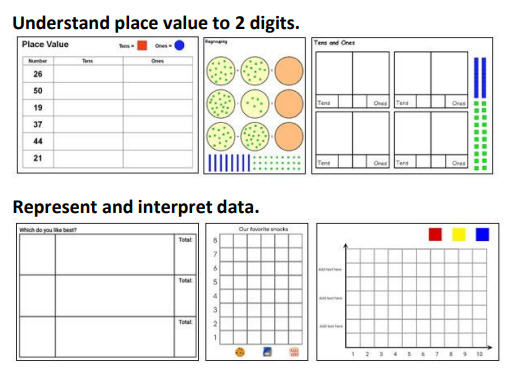 ---
Literature Adaptation
Share a story with a repeating pattern like Mary Wore Her Red Dress. Then, have each student recreate a page with the same pattern. Combine the student projects into a class book.
---
Writing Story Problems
Have students illustrate an addition or subtraction story and record an explaination of the problem. Collect the student projects into a class book and solve all the problems together.
---
Reading and Writing Informational Texts
Have students create their own informational text including headings, a table of contents, captions, and labeling to find information. Publish their work as a great collection of nonfiction at just the right reading level for your students.
---
Favorite Relative
Have students write a simple story about a family member or friend. Have them record their voice and share on Mother's Day, Father's Day, or even Valentine's Day.

Lesson Plan

Wixie Cluster Organizer
---
Build ICT foundations
Use this roadmap to build literacy, numeracy and ICT skills! Select an activity and assign to learners yourself or share the roadmap with students and have the progress at their own pace

Wixie ICT Roadmap for First Grade