ELL Strategies for Primary Learners
Use these sample projects and classroom ideas to support your ELLs as they acquire new language.
Creative use of technology can engage ELLs, and help you integrate your iPads, PCs, or Chromebooks into the curriculum.
These samples were created by primary students and classrooms using Wixie.
Simplified Digital Storytelling
Students added a single image and recorded narration to share facts about content they learned and practice fluency.

Article
---
Passion Picture Books
Students write and illustrate on a topic they love and print as foldable booklets they can read over and over.
---
Sentence Strips
Students use the Wixie's Sentence Strip template to write and illustrate a sentence with new vocabulary.
---
Retelling Repetitive Stories
Students practice writing and speaking new vocabulary words using familiar and repetitive books and songs.
---
Graphic Organizers
Students use graphic organizers as story starters and to help structure their thinking.
---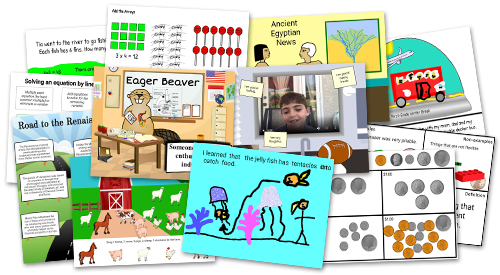 Students are using Wixie to bring their words, their voice, and their art to the curriculum.
Join the thousands of teachers and students who are using Wixie every day!