Build Elementary Math Skills with Technology!
Use these examples of projects created by students to inspire technology integration in your elementary math program.
Creative use of technology can engage students, and help you integrate your iPads, PCs, or Chromebooks into the curriculum.
These multimedia projects were created by students using Wixie.
Explain mathematical thinking
Students use math to show a solution and record narration to explain their thinking.
Click the play button to listen to the student's explanation.
Multiplication
Students demonstrate knowledge of arrays, find a real world example for needing multiplication, and explain.
Click the play button to see all the pages.
Surreal Symmetry
Students use symmetry to develop their own surrealist work exploring good and bad.

Lesson Plan
---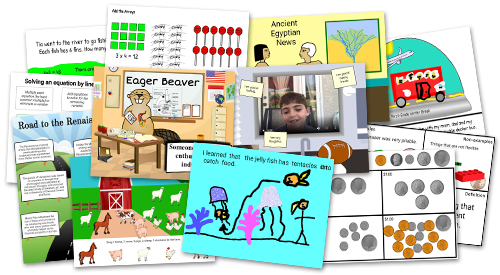 Students are using Wixie to bring their words, their voice, and their art to the curriculum.
Join the thousands of teachers and students who are using Wixie every day!