Creating eBooks: Students as readers, authors, and designers
Give student writing purpose and meaning through the creation of eBooks. eBooks make it easy to share student writing projects with a broad audience, helping to engage students and inspire them to produce their best work.
It's easy to export ePubs from Wixie. Students can use Wixie to write, illustrate, and record stories and nonfiction. Once students are finished writing, they can export work as ePub files and upload to GoogleDrive and Dropbox for easy sharing.
---
Adapt a Favorite Story
After reading Eric Carle's The Grouchy Butterfly, students published their own story to show their understanding of elapsed time.
---
Create Your Own Informational Texts
After exploring a science or social studies topic in the classroom, ask students to share their new found knowledge by creating their own informational texts. Individual students can write their own books or use an ABC format to create a class eBook.

Lesson Plan
---
Fabulous Fables
Put students in the author's seat and encourage narrative writing, by asking them to write and illustrate their own fables.
---
Publish Visual Poetry
Poetry's purposeful word choice encourages close, careful reading. Have student demonstrate "understanding of figurative language, word relationships, and nuances in word meanings" by creating visual poems. Print versions are beautiful but eBooks let them record for intonation and fluency.
---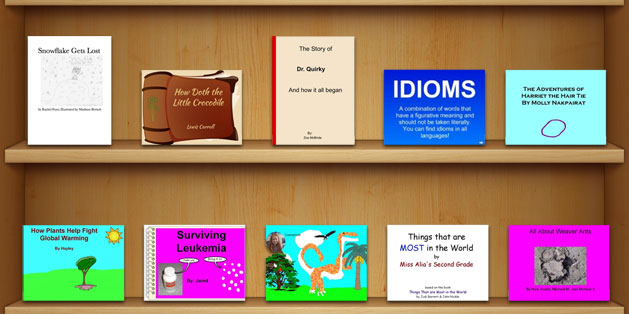 Want to learn more about creating eBooks with your students? This Creative Educator article looks into ways to motivate students by creating ePubs in the classroom.