Write, Draw, Record
Every day, students around the world write sentences and draw pictures to go with them. Imagine students recording themselves as they read their sentences. Imagine keeping those projects all year, and each year, allowing students to see how they have grown over time. Imagine sharing student work with their parents in a way that doesn't end up wrinkled in a backpack and finally in the recycle bin.
Now imagine doing all this in just a couple of minutes.
There are no free tools out there that can do all this as easily, as quickly, or as effectively as Wixie. There may not be any free tools out there that can do it at all.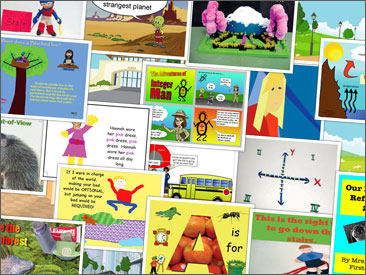 Tools for students of all ages
Wixie grows with students as they move through the grades, explore the curriculum, and create powerful examples of learning.
Student projects can evolve from simple one-page examples of writing, art, and voice growing into multi-page eBooks with paragraphs of text, images, and sounds and voice, that they can print, share online, or distribute as an ePub.