Implementing Wixie in your organization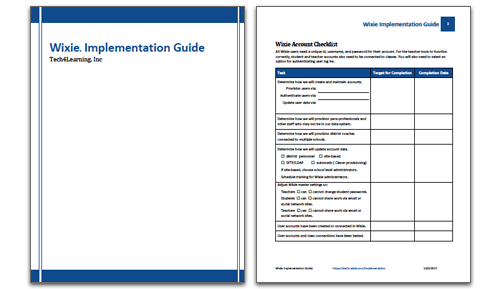 The Implementation Guide provides an overview of what you need to accomplish to get Wixie up and running for teachers, students, and support staff. Use the checklist to get an overview of tasks, assign roles, and set dates for completion.

Wixie Implementation Guide

Wixie Implementation Checklist
Wixie Integration Specialists can provide free coaching sessions to help you get the most out of Wixie in your classrooms.

Request a Coaching Session
Provisioning Accounts
Wixie accounts give students access to the authoring tool, and connect student work to their teacher, or teachers. Common ways schools provision Wixie are with OneRoster, ClassLink, Clever, a CSV upload, or by entering data manually.
YouTube Playlist: Managing Wixie Users

CSV Instructions
Wixie has passed conformance testing for support of the OneRoster® csv format for providing roster information.

OneRoster CSV Instructions
LTI Integrations
Wixie supports LTI integrations with either LTI 1.1 or LTI 1.3 compliant learning management systems such as Canvas or Brightspace.
Authenticating Accounts and Single Sign-on (SSO)
Wixie supports authenticating users with a username and password, QR codes, or through a single sign-on with a third-party. Wixie supports single sign-on from Google, ClassLink, and Clever. Wixie also supports single-sign on using ADFS and SAML.
Add a Wixie button to your web site
Adjust your Wixie Settings
Before students and teachers begin using Wixie, you will want to review the settings for your organization. These setting impact project sharing and privacy, as well as authoring tool settings for interface, fonts, and more. Your settings also impact which Wixie templates are accessible to your users and which standards display for search and project correlation.

Changing Your Organization's Wixie Settings

Choosing a Wixie theme for your students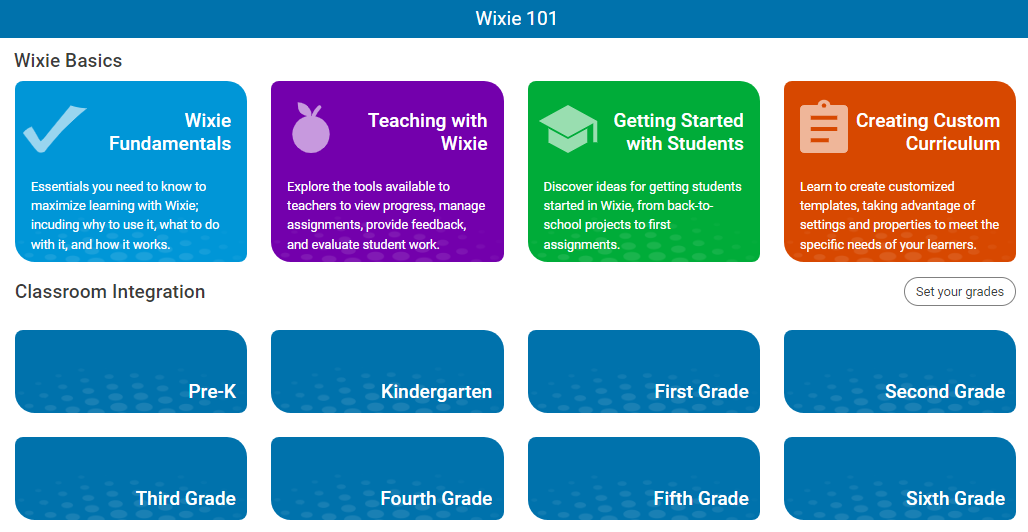 Wixie 101 - Introducing Wixie to Teachers
Take advantage of the Wixie 101 training materials available from your Wixie dashboard. Help new users learn Wixie fundamentals, find the perfect first project, connect Wixie to the curriculum at their grade level and even learn to customize their own Wixie assignments.

Visit Wixie 101
Using Wixie with your LMS
Managing assignments digitally is essential for success, whether you are virtual or face-to-face. Wixie integrates with Google Classroom, Canvas, and Brightspace to help make learning seamless with your LMS.
Meet Curriculum and Learning Goals
Use these resources to share how you can use Wixie to meet curriculum goals and site initiatives.

Curriculum Guides