Get students to inquire, think and create for Earth Day
Encourage curiosity, promote inquiry, and get students to think and create for Earth Day.
Creative use of technology can engage students, and help you integrate your iPads, PCs, or Chromebooks into the curriculum.
Wixie provides a digital canvas students can use to share ideas, raise awareness, and promote change for Earth Day.
Public Service Announcements
Students create a public service announcement to educate people about an issue they are passionate about.
---
Animal Interviews
Students interview endangered or threatened animals to demonstrate understanding of human impact on the environment.
---
Retell Events
Students retell events from a field trip, interview with a scientist, or another Earth Day activity.
---
Comics
Having students showcase their ideas using comics to make learning relevant and fun! This sample is a student combining knowledge of soil with a story based on Doreen Cronin's Diary of a Worm.

Creative Educator Article
---
Upcycle
Students design and create upcycled products using materials collected at home and school.
---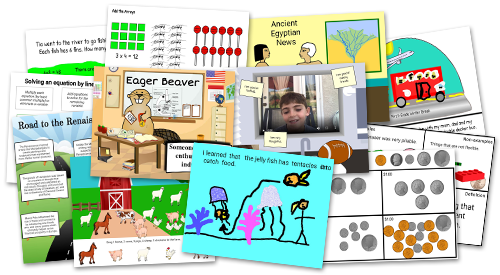 Students are using Wixie to bring their words, their voice, and their art to the curriculum.
Join the thousands of teachers and students who are using Wixie every day!