Great tools for self-expression!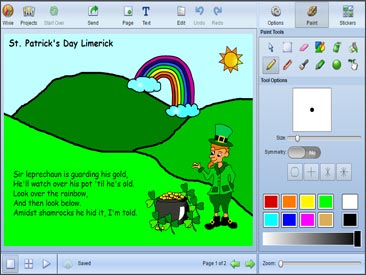 Students can write and edit text, add images and photos, paint pictures, and record their own voices to create powerful examples of learning.
Combining artwork with text and voice recording makes Wixie the perfect canvas for today's digital learners, providing powerful tools to create original work that demonstrates student understanding of the curriculum.
---
Motivate a wide range of learners!
Children are unique learners. Wixie helps every student produce high-level work, providing a sense of pride in their abilities and motivating them to achieve.
Wixie provides students with multiple ways to demonstrate their understanding of curriculum content, capitalizing on each student's varied learning styles.
---
Support ELL learners.
Producing meaningful, language-rich projects to demonstrate academic concepts and improve fluency can engage ELL students and improve their English skills.
Wixie supports English language acquisition by providing ways for students to use words in context, express their ideas, build vocabulary, follow directions, and practice using words and their proper meaning, helping them move from beginning to advanced levels of acquisition.